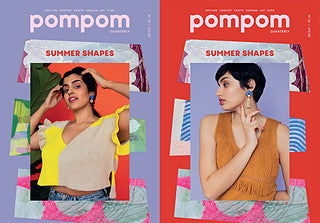 PomPom Quarterly Vol 33 - Summer Shapes
The theme for our summer issue is the sun – as we've moved through the classic elements of water, earth, and air for our quarterly inspiration we next looked to fire, by way of this life giving star. The designers have embodied its energetic colours and radiance as their inspiration, creating pieces for this season to enjoy from sunrise to sunset.
This issue has two covers, we just couldn't decide on one this quarter! But don't sweat, no matter which cover you receive, exactly the same wonderful content is inside.
Featuring designs by:
PAULA PEREIRA // AMALIA SIEBER // RACHAEL REESE // ISA CATEPILLÁN // NATALIYA SINELSHCHIKOVA // WENCKE PERTERMANN // ERICA SUFKA // SANDRA GUTIERREZ // EZGI TANDOGAN ONAT //  JULIA WILKENS //  MARJAN GOUDA
See all the patterns here