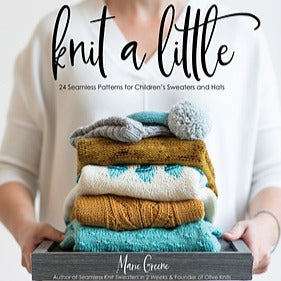 Knit A Little by Marie Greene
Marie Greene is back with a fresh new direction for her signature seamless style in this collection of 24 new patterns for kids! With 12 sweaters (sizes 0-10) and 12 matching beanies (preemie to adult), Knit a Little reimagines some of Marie's most popular designs on a small scale.
Whether you're looking for ideas to use your yarn stash, have little ones to knit for, or just love the satisfaction of a small project, this book offers quick-to-knit, gender-neutral patterns in a range of yarn weights. You'll find cardigans and pullovers with colorwork, cables, simple texture and more.
Need some baby yarn to go with this? 
See all the patterns in this book on Ravelry here.
Softcover | © 2021 | 172 pages