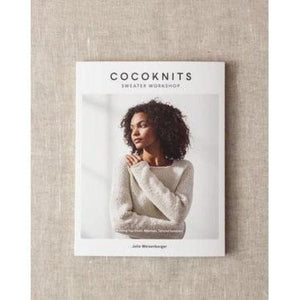 Cocoknits Sweater Workshop
The Cocoknits Method is a distinct system for knitting top-down, seamless sweaters with streamlined designs that you will actually wear – and have the time to knit.
This book explains the Cocoknits Method – a system of tracking knitting progress in your own easy to follow customized worksheet. Unlike most traditional patterns that create flat shapes, the tailored style of construction in these patterns creates truly three dimensional garments that impart a great fit upon completion.
All designs are worked from the neckline down, so once the neck and yoke area are established, you can just cruise through generating the sweater and not worry about counting or losing track of your place in the pattern. Another advantage of knitting top-down is the ability to try on your garment as you work, to ensure the fit is right.
Get the Cocoknits Sweater Journal here
Softcover | © 2017 | 141 p
Printed and bound in Canada
---
We Also Recommend